Band: Death Cab For Cutie
Location: Shanghai, China's Yunfeng Theatre
Date: March 9, 2012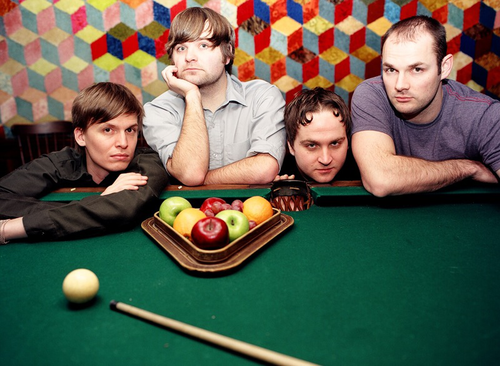 "Hello, we're
Death Cab For Cutie
from Seattle," Ben Gibbard timidly introduced his band after playing the concluding notes to "A Lack of Color". But just as abruptly as the band began their set at Yunfeng Theatre, Ben's introduction was suddenly overwhelmed by a wave of cheers from the adoring crowd that was seeing them play for the first time.  Earlier this month, Death Cab played their first ever show in China and for a city so hungry for international acts, Death Cab's inclusion into the JUE Festival was a perfect way to follow-up Shanghai's recent visits from
Mogwai
and
The Pains of Being Pure at Heart
. And while the crowd wasn't entirely that energetic throughout most of the show – perhaps influenced by the nontraditional rock venue, a smallish theatre that limited excessive jumping and dancing – it was clear that they were definitely into the show and the music being played.
From that point on, it was obvious that the band had settled into a comfort zone of sorts, launching into their more well-known tracks like "You Are a Tourist" and even a solo performance of "I Will Follow You Into The Dark" that had the crowd singing and swaying along. Although the tracklist was heavy with songs from 2003's Transatlanticism (a total of six songs!), the band rounded out the evening by including songs from Narrow Stairs, We Have the Facts and We're Voting Yes, and The Photo Album.
Accompanied by waves of flashing lights, Ben even took a turn on an extra set of drums for an extended, heavily instrumental rendition of "We Looked Like Giants" where the band launched into a five-minute jam session. For the rest of the night, Ben alternated between playing the keyboard and the guitar, but of course, he was at his best behind the microphone, with the acoustics of the theatre and the diligence of the sound crew making his voice sound even better than on record. Those who weren't awestruck by Ben's stage presence and his vocal skills happily sang along, giving the theatre an extremely warm and intimate atmosphere that really complemented the music being played.
After going through 21 songs in just under two hours, Ben graciously thanked the adoring crowd and the band headed off surrounded by cheers from the packed theatre that just wasn't ready to leave yet.
Setlist:
A Lack of Color
I Will Possess Your Heart
Crooked Teeth
We Laugh Indoors
Photobooth
Doors Unlocked and Open
Long Division
Grapevine Fires
Codes and Keys
Different Names For The Same Thing
I Will Follow You Into The Dark
Title and Registration
You Are a Tourist
The New Year
Company Calls
Company Calls Epilogue
Soul Meets Body
Cath…
We Looked Like Giants
The Sound of Settling
Encore:
Underneath The Sycamore
A Movie Script Ending
Transatlanticism